Great stuff from the National Football Post … and, yes, Texas A&M's Von Miller is mentioned:
After watching practice this week at the Senior Bowl in Mobile there is some talent in this class on both sides of the ball. Here are five players stood out from my perspective this week on the field—along with others who consistently showed up in my notes.
Cameron Jordan, DL, Cal: He's explosive off of the line of scrimmage and unlike Miami's Allen Bailey (a straight line pass rusher), Jordan had enough counter moves in his game to consistently win at the point of attack. Everyday when I watched one-on-ones and team drills, Jordan stood out. He can penetrate the offensive line and I see him as a DE that can align outside in a 4-3 front or as a 5 technique in a 3-4 scheme. As one scout said this week, there is always a player down in Mobile who punches that cash register. This week—it was Jordan. The D-Lineman from Cal made himself some money at the Senior Bowl.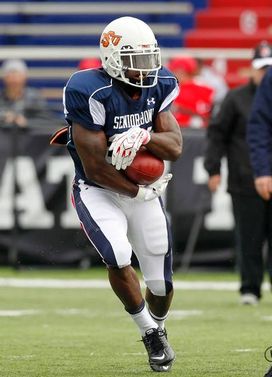 ICONOklahoma State's Kendall Hunter.
Kendall Hunter, RB, Oklahoma State: He doesn't have the size that is going to jump off of the page (5-7, 199), but he has big lower body strength and an ability to accelerate once he hits the hole. Stood his ground in the one-on-one blitz pickup drills vs. the linebackers, looked good in the screen game and has a nice first step in the downhill running game. With Hunter I see a back that can carry the ball in the NFL and produce. Compared to Oklahoma RB DeMarco Murray, there is no doubt that Hunter looked like the more NFL-ready player at this point.
Von Miller, LB, Texas A&M: It might be too easy to put Miller on this list, but with all of the hype leading up to this week in Mobile, the A&M linebacker still had to show up and play. He did get a chance to display his ability to rush off of the edge in one-on-ones and you can see his natural speed and athletic ability when he is playing in space—because he can close on the ball carrier. That's very noticeable. However, what stood out even more was watching Miller drop into coverage. He moves like a strong safety playing the curl-to-flat reads in Cover 3. How high does he go? It is still early in this process, but the talk down in Mobile had Miller pegged as a legit top ten pick after this week. If he tests well in Indy, we should see that happen.
Rashad Carmichael, CB, Virginia Tech: The guy will compete. In one-on-ones, and during team drills, the Virginia Tech cornerback played football. You can tell when a DB can move his feet, change direction and come downhill from an off-man position to close on the ball. Carmichael isn't a first round talent—and injured an ankle this week—but if I am a coach, I want my corners to line up and challenge wide receivers throughout the entire practice. That is what I saw. Plus it is hard to pass up on a defensive back from Virginia Tech, because they are coached hard and produce in the league for a reason. Carmichael is a solid player that will stick on a roster, have an immediate impact on special teams and could compete with veteran talent for some early playing time in defensive sub packages.
Gabe Carimi, OT, Wisconsin: Big body (6-7, 315). That's the first thing you notice when you see him in full gear and off of the field. Strength at the point of attack—can take on a bull rush—and good enough feet to get back and attack speed off of the edge because of his reach. There is no doubt Carimi can win up front in the run game and I think the tape from these practice sessions will answer some questions about his pass protection skills against good competition. With Carimi, you are drafting a physical offensive tackle that has the tools to play a long time at both tackle positions in the NFL. We talked to him during the week, and the NFP's Greg Gabriel (who has over 20-plus years of scouting experience in the NFL) said that the Wisconsin O-Lineman is the type of player you want in the locker room.
Some other prospects that we routinely in my notes…
Titus Young, WR, Boise St.
Christian Ballard, DL, Iowa
Quinton Carter, FS, Oklahoma
Derek Sherrod, OT, Mississippi St.
Vincent Brown, WR, San Diego St.
DeAndre McDaniel, SS, Clemson
Mason Foster, LB, Washington
Kendric Burney, CB, UNC