BIG CREDIT TO THE DIRTY AND DEUCE OF DAVENPORT:
As we all know by now, USC has been stripped of its 2005 NCAA football championship. Matt Leinart was of course integral in winning it.
The Dirty provided the picture and Deuce of Davenport the following copy … it just makes me wonder. If you strip a title, should you strip a retired jersey?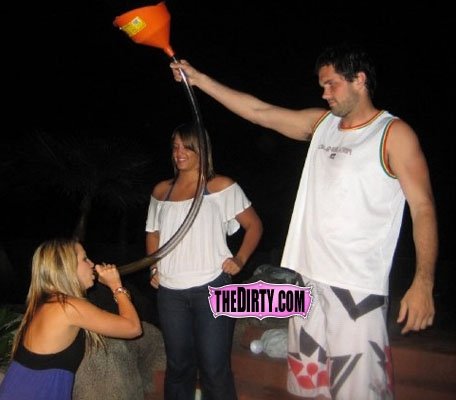 For some, college represents the glory years of your life, a time when you felt invincible, and capable of just about anything.
NFL QB Matt Leinart is one of those people. Leinart has never done much as a pro except bitch and moan about not being the starting QB, but he was the man at USC, even getting his no. 11 jersey retired. If you go to Leinart's twitter page the background is an image of his days as a Trojan, when he was a winner. No matter how many seasons he fails to live up to his pre-draft hype, he will always have his national championship as a Trojan. Until now. Turns out that's no longer the case, either. Thanks, Reggie Bush. No, seriously, this is awesome.
Write a hate letter to Reggie Bush on Leinart's behalf, ESPN:
"The BCS arrangement crowns a national champion, and the BCS games are showcase events for postseason football," BCS executive director Bill Hancock said in a statement. "One of the best ways of ensuring that they remain so is for us to foster full compliance with NCAA rules. Accordingly, in keeping with the NCAA's recent action, USC's appearances are being vacated.

"This action reflects the scope of the BCS arrangement and is consistent with the NCAA's approach when it subsequently discovers infractions by institutions whose teams have played in NCAA championship events."

The BCS and NCAA are not formally affiliated, but the BCS reacted to the NCAA finding that Bush was ineligible during the 2004 season because he received extra benefits from a would-be sports marketer.

"This was not an unexpected outcome," USC athletic director Pat Haden said. "We will comply with all requirements mandated by the result of this BCS vote."

One of Haden's first moves when he took over as AD last year was to give back the school's copy of the Heisman Trophy that Bush won in 2005. Bush later relinquished his own Heisman and the trust in charge of handing out the award announced the '05 winner would be left vacant.
Comments